We finally found a movie more 80s and crazy than 'Tuff Turf'. To be honest, we have found two movies actually but we will come to the other one at a later date.
Our next film in the 'Movies that could only be made in the 1980s' list is the 1986 skater flick 'Thrashin'. The only skater film that actually doesn't feature the easiest and most famous skate trick of them all – The ollie!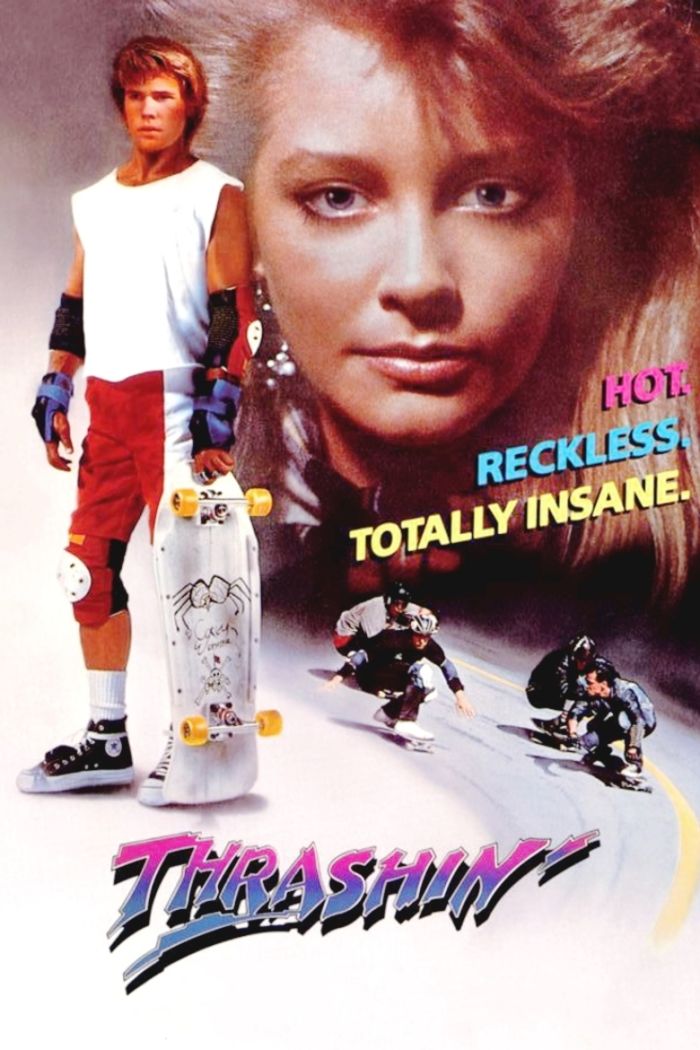 A very 80s skate movie starring a post-Goonies Josh Brolin as amateur skater Corey Webster.
Fun fact: The director originally wanted Johnny Depp for the lead but was overruled by the production team.
I wasn't sure what to expect from this film as an ex-skater myself and with previous experience of skater-themed movies which have always been crappy. I really don't remember this amazing underground scene of endless parties featuring rival skater gangs and an array of punks, break dancers and sexy bikini-wearing models and with Red Hot Chili Peppers dropping by and performing every night for free. But what do I know I didn't grow up in sunny California!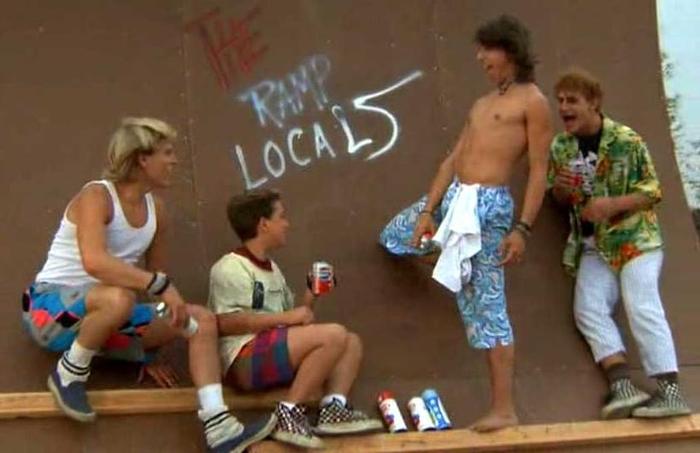 There are a lot of famous skateboarders of the time appearing in the movie including Steve Caballero, Tony Alva, Christian Hosoi, Kevin Staab and Tony Hawk.
What is it all about?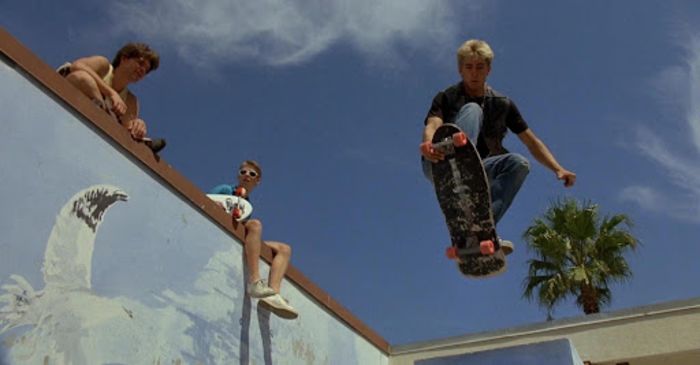 Corey Webster (Josh Brolin) is an amateur skateboarder from out of town staying in Los Angeles with friends and hopes of competing and winning a downhill competition for which he has been training. During his stay in LA, he falls for a beautiful blonde named Chrissy (Pamela Gidley), who just happens to be the younger sister of Hook (Robert Rusler), the leader of "The Daggers", a tough punk rock skateboard gang in the Los Angeles/Venice Beach areas. Chrissy is not a Dagger herself but has come from her home in Indiana to stay with her brother in L.A. for the summer.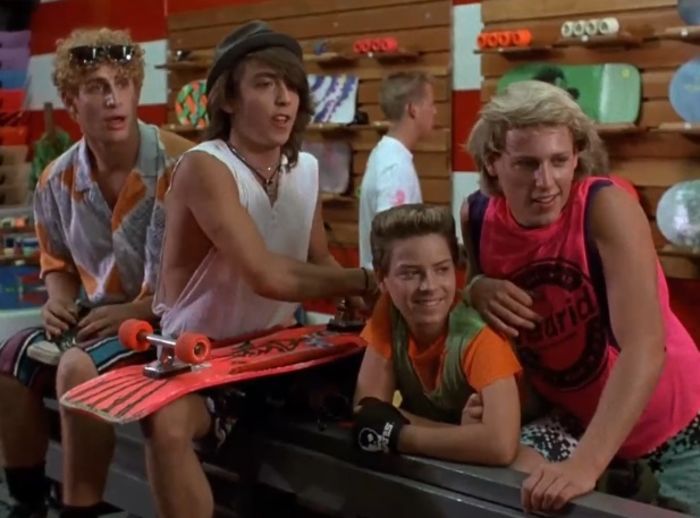 Of course, it's the 80s so the main protagonist must instantly fall in love with the antagonist's girlfriend or sister and pursues them no matter what even if this means getting killed in the process.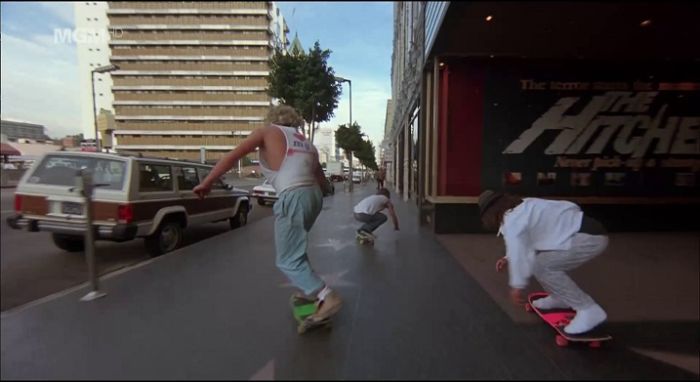 The Ramp Locals
Corey becomes part of the local skate gang – 'The Ramp Locals. In one scene they straight up cut the roof off one of one of the members brand new VW Golf that his parents have bought him and graffiti the paintwork thinking it looks better… It does not, it looks s**t!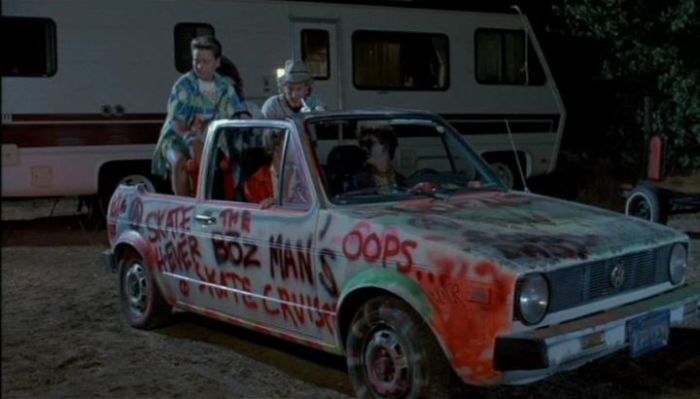 The Daggers
I don't recall skater gang rivalry when I was a teenager, in fact, if we came across another group of skaters then we'd usually skate with them. Skaters are usually friendly people with other skaters. I don't know what this gang bullshit is other than some petty territorial thing.
Here below we have The Daggers. Your average 80s gang…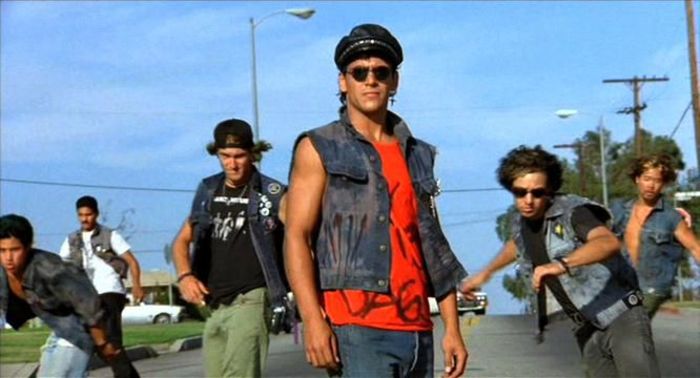 The 80s gang's checklist includes
Denim (or leather) waistcoat/jacket sometimes with no undergarment worn underneath
Headband or leather cap
Ripped jeans with big belt
Cross dangling earring
Flick knife
Scowl when you look at their girl
Evil snigger even when somebody nearly gets killed
The "yeah" backup comment when the leader makes a threat to a rival
Those Damn Daggers
The Daggers not only take a dislike to the Ramp Locals but when they find out Corey is interested in Hook's sister they do some dastardly things.
When Corey enters the first leg of the skate competition they throw metal jacks on the ramp and he falls off and injures himself.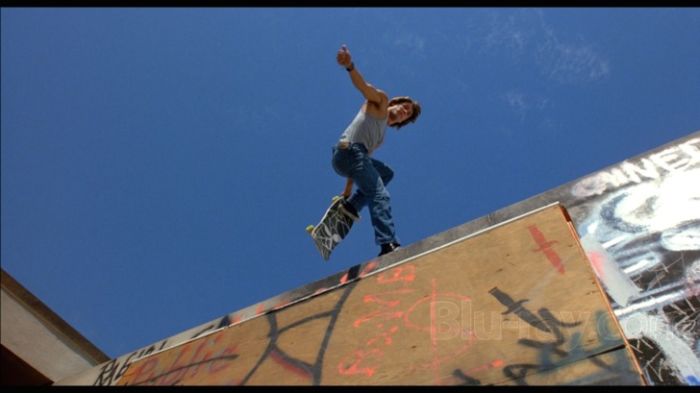 They also chase Corey around town where he manages to escape by lying down on the roof of a bus. They beat up one of the members of the Ramp Locals and also burn down their half pipe skate ramp. Damn you Daggers [Shakes fist!]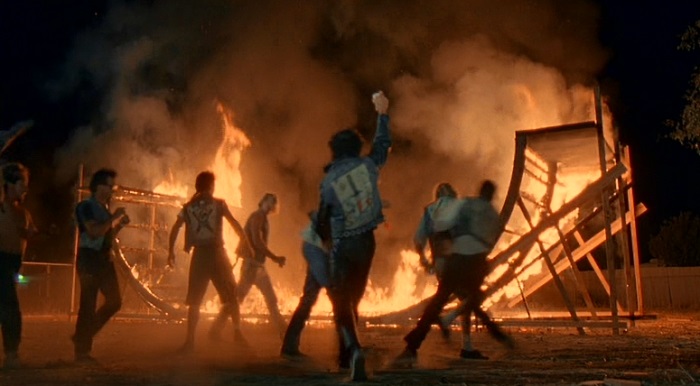 Who is Mr Flood?
We meet Mr Flood who owns the local skate shop/skate company and someone mentions that he was the guy who invented skateboarding and give him full credit even though he looks like he's never been on a skateboard in his life! (No he didn't invent skateboarding by the way)
Okay, now we reach the most ridiculous scene in a skater movie and probably in the history of all the movies that have ever been made…
The Skate Joust Scene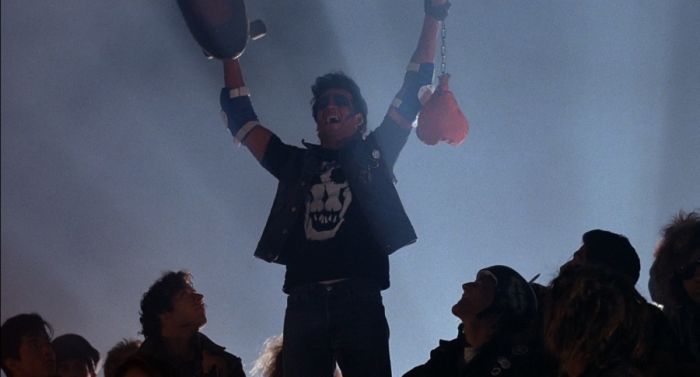 'Skate' and 'joust' are two words that you wouldn't expect in the same sentence. Yes, they battle it out by jousting on skateboards with punch bags on chains. Yes, really this shit happens and all of them have straight faces. Is this what Hollywood thinks happens in the skateboard scene?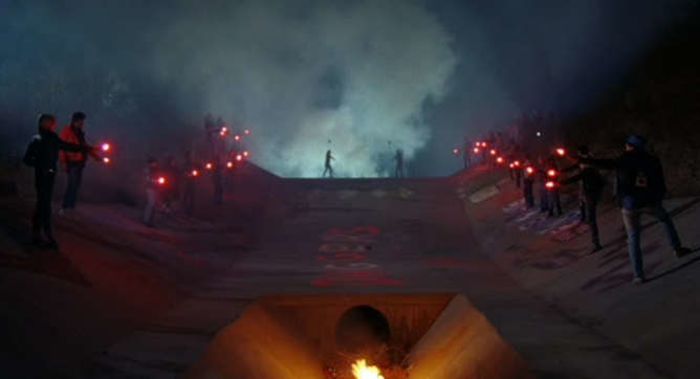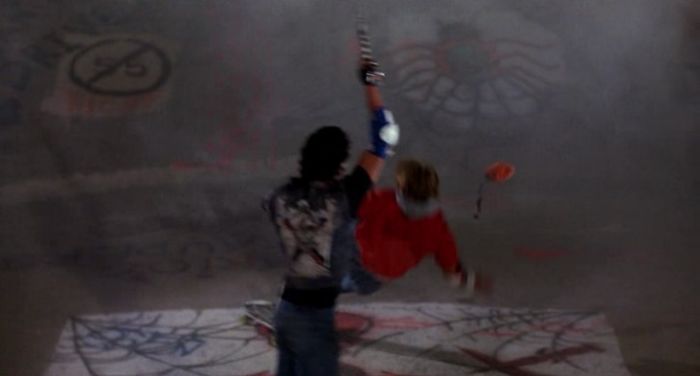 The battle is finally broken up when the cops arrive. Corey has a sulk but then gets back to training for the downhill final.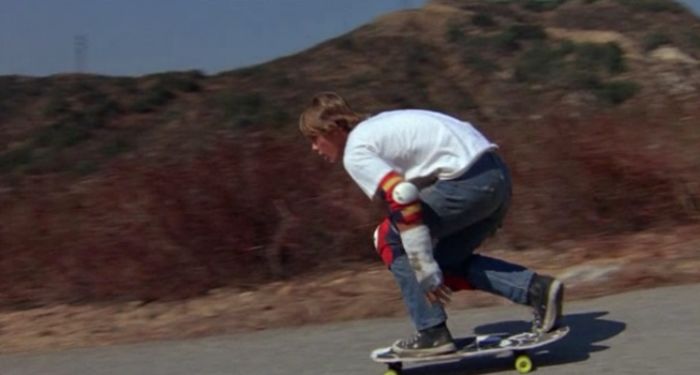 The Downhill Race
It's the 1980s so people assume downhill skateboarding is the be all and end all of skate events. It's is not like that nowadays and is kind of overlooked for ramp and street skating.
Hook is so badass he can race downhill wearing no helmet or pads and people are perfectly okay with him cheating and pushing the other skaters to their potential death.
Eventually, there are only two skaters left Corey and Hook. Hook then eventually crashes out and Corey wins and finally gets a job I mean a contract with Smash Skates.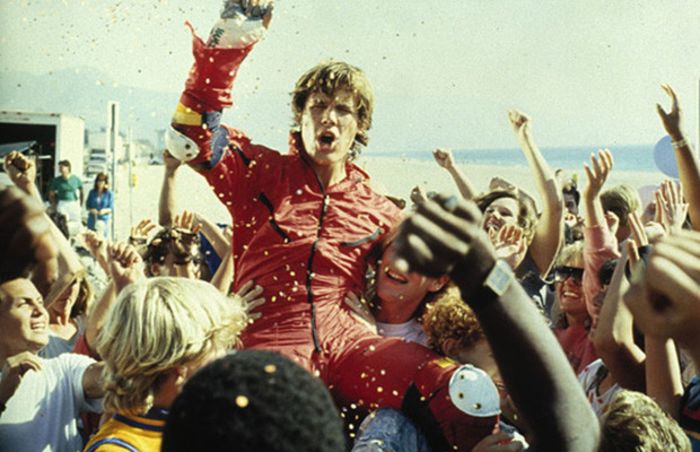 Hook says he respects him after all the attempting killings and arson throughout the film and he can now date his sister. Hooray!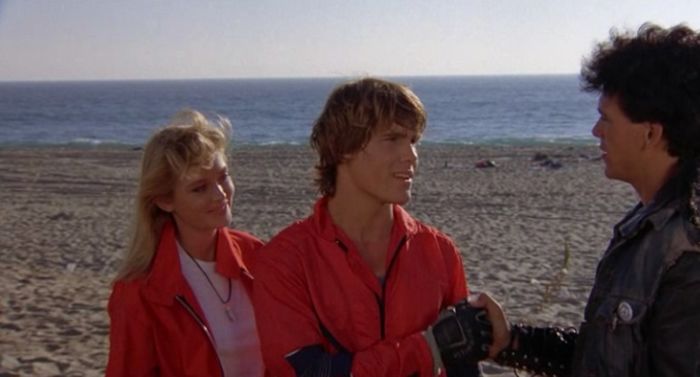 The end